This Web site was designed using Web standards.
Learn more about the benefits of standardized design.
Quick Links
Main Navigation
Top Stories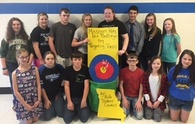 The Avilla Student Council has entered "The Missouri Department of Conservation (MDC) and the Missouri Department of Transportation (MoDOT) invite Missouri public, private, and home-school students in grades K-8 to help fight litter in the Show-Me State -- and to have creative and educational fun -- by participating in the 2016 "Yes You CAN Make Missouri Litter-Free" trash-can-decorating contest." The annual . . .